A mobile system with virtual coaches for patient rehabilitation
Mobile, Virtual Enhancements for Rehabilitation (MOVER)
Charles River has developed a number of medical programs and support systems for service members and veterans in recent years; its goal with the Mobile, Virtual Enhancements for Rehabilitation system, called MOVER, is to enhance outpatient rehabilitation with engaging video games, a mobile app, sensors, and virtual coaches.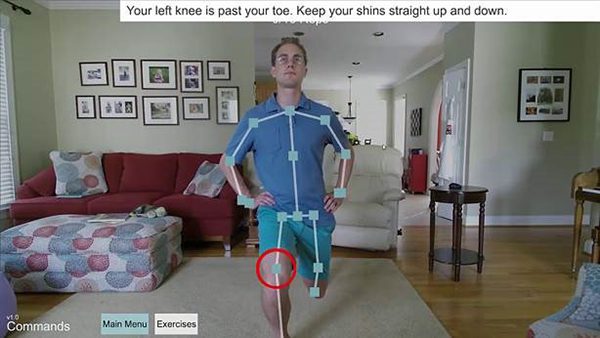 "Unfortunately, patients do not always follow therapy protocols for a number of reasons, such as confusions about exercises, lack of time or motivation, forgetting, or experiencing feelings of helplessness. These issues can be exacerbated by additional conditions, such as cognitive difficulties from traumatic brain injury. To enhance recovery, an injured service member needs a system that offers remote assistance. We are developing MOVER to provide this assistance."
Dr. James Niehaus,
Team lead on the MOVER effort
When injured service members come home, they face long-term care and recovery in addition to adjustments in their daily lives. With the assistance of rehabilitation services for conditions such as traumatic brain injury (TBI), broken bones, spinal cord injuries, chronic pain, or amputation, many learn to adapt to their conditions or restraints and return to full health. While these rehabilitation services are available in military treatment facilities and through Veterans' Affairs Medical Centers, not all patients have the time or ability to access extended inpatient rehabilitation care. Outpatient physical therapy is a more suitable alternative for many, allowing them to continue with their daily lives and be near family and friends.
MOVER uses a combination of mobile apps, sensors, and virtual coaches to assist patient rehabilitation and recovery. Through the mobile app, MOVER provides information on specific exercises, recovery, and common problems. Patients can work with a therapist through this app to devise a schedule for weekly exercises and set up reminders to stay on schedule. Therapists have additional access through reports on patients, and they may modify treatment plans to adjust to patient progress. Virtual coaches, using commercially available sensors, provide assistance to patients on exercise instruction, feedback to stay on track, and games to keep them motivated.
Dr. Niehaus noted, "MOVER makes physical rehabilitation more accessible, more cost effective, and, importantly, more fun."
This material is based upon work supported by the Office of Naval Research under Contract No. N00014-13-C-0359. Any opinions, findings and conclusions or recommendations expressed in this material are those of the author(s) and do not necessarily reflect the views of the Office of Naval Research.
Our passion for science and engineering drives us to find impactful, actionable solutions.