A system to automatically sense
indicators of cognitive workload
Augmented Training by Monitoring, Extracting, and Decoding Indicators of Cognitive Load (MEDIC)
US military medical personnel may be deployed to operational environments where their success in saving lives depends on their ability to act quickly and effectively, both as individuals and as teams. Therefore, effective training must go beyond individual skills to include interactions among team members, and how those interactions transfer to operational environments. Currently, trainers must infer competence by observation alone—a challenging task.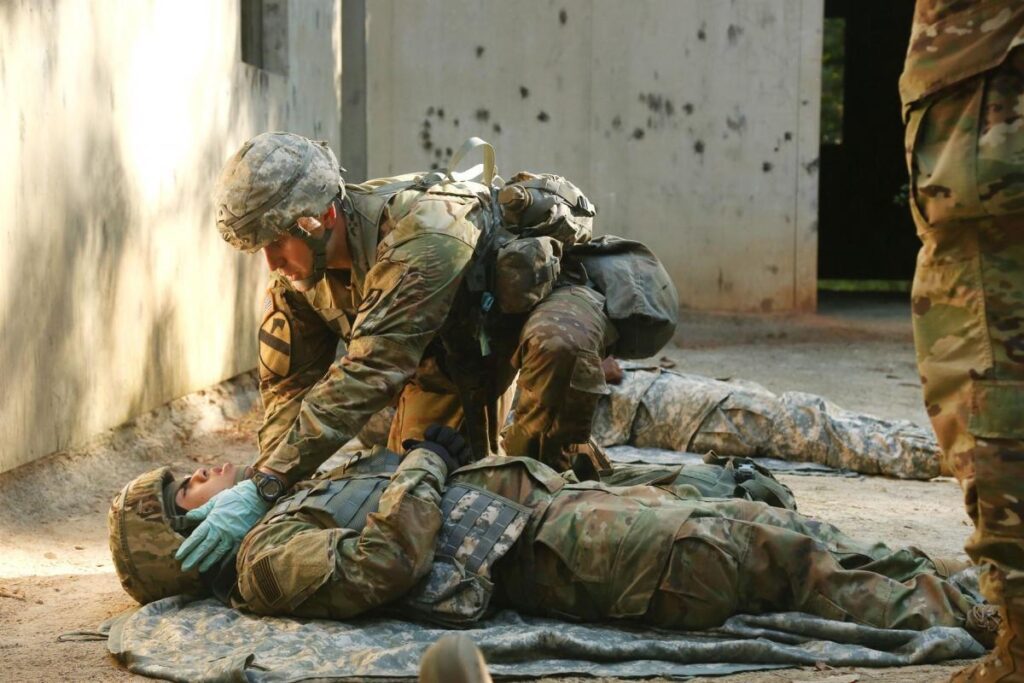 A soldier performs tactical field medical care (Image source – Defense.gov)
The Charles River Analytics Solution
Scientists and software engineers at Charles River Analytics have created a system to assist trainers by automatically sensing indicators of cognitive workload to augment performance observations, offering insight into factors underlying that performance. We have completed the initial design and testing of MEDIC on a two-person team. We designed a multimodal suite of unobtrusive, field-ready neurophysiological, physiological, and behavioral sensors. This includes a device to be mounted on the inside of the trainee's helmet to measure indicators of cognitive load, a body band device that includes additional sensors to measure indicators of physical activity, and a user interface (UI) through which the trainer can enter details of the simulation into the system prior to the actual exercise. Through this UI, the trainer can take notes and record time-tagged photos and videos to record performance details as the scenario unfolds. Having prototyped a monitoring unit, we then developed software incorporating complex event processing and probabilistic modeling to extract and fuse the best indicators of cognitive workload and team dynamics from the multiple, high-volume data streams originating from the sensor suite, across both physically and cognitively demanding conditions. We then designed a separate UI that displays the interpreted data, including information about the state of the individual and of the team as a whole.
Future work will include validation of each component of MEDIC using both controlled laboratory studies and testing in realistic training environments (simulation centers).
Because of promising initial results, we are validating MEDIC using both controlled laboratory studies and testing in realistic training environments (medical and military training simulations) in partnership with our collaborators across the country. This system is poised to have far reaching benefits for a number of emergency management training groups, including the Federal Emergency Management Agency (FEMA), state and local governments, as well as in applications for training emergency medical personnel (e.g., emergency room staff, disaster response teams) and first responders (e.g., emergency medical technicians).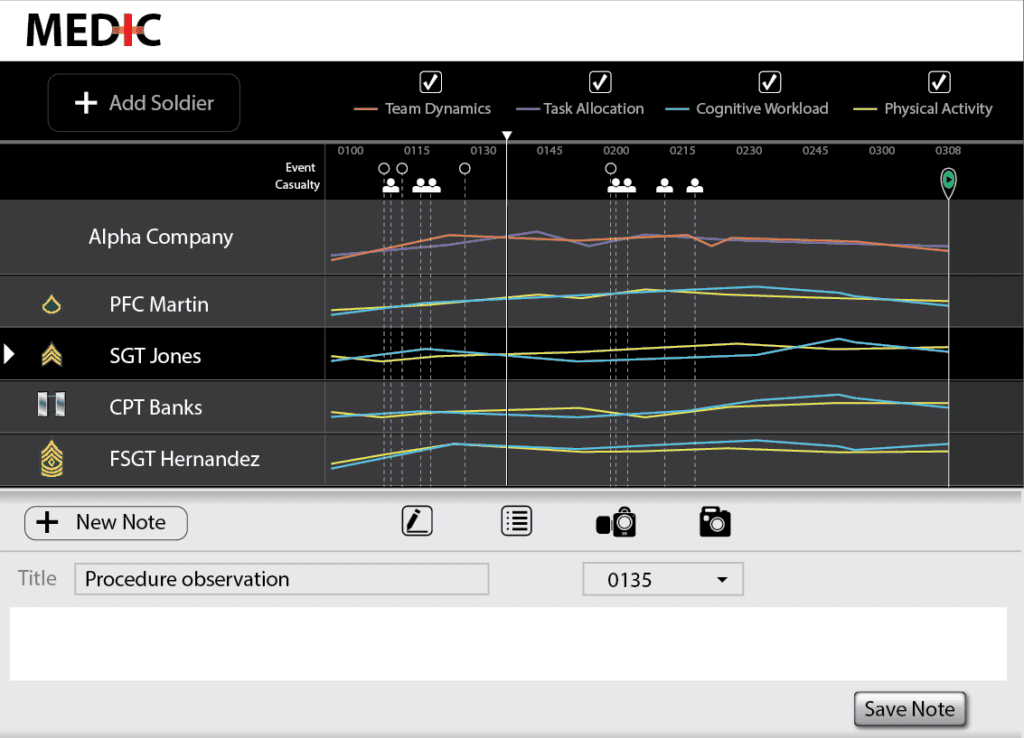 After action review UI through which the trainer can review the details
This work is supported by the US Army Medical Research and Materiel Command under Contract No: W81XWH-14-C-0018. The views, opinions and/or findings contained in this report are those of the author(s) and should not be construed as an official Department of the Army position, policy or decision unless so designated by other documentation. The appearance of U.S. Department of Defense (DoD) imagery does not imply or constitute DoD endorsement.
Our passion for science and engineering drives us to find impactful, actionable solutions.