Charles River Analytics, a developer of intelligent systems solutions, presented recent efforts in healthcare support and training at the 14th annual International Meeting on Simulation in Healthcare (IMSH) and Medicine Meets Virtual Reality (MMVR). Dr. Peter Weyhrauch, Principal Scientist at Charles River, presented the Tourniquet Master Training (TMT) system and the Laparoscopic Surgery Training System (LASTS) by invitation at the Government Agency Research in Progress Demonstration Corral at IMSH. At MMVR, Dr. Peter Weyhrauch and scientist Dr. James Niehaus presented Laparoscopic Surgery Skill Models for Refresher Training during the panel Novel Approaches to the Study of Medical Skill Decay. Dr. Weyhrauch also presented a poster on Tourniquet Master Training for Junctional and Inguinal Hemorrhage Control.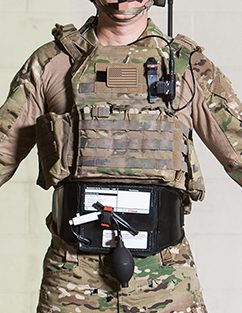 Charles River is designing and demonstrating TMT to teach, assess, and provide refresher training on new battlefield tourniquet technology to aid warfighters in treating junctional hemorrhage injuries in areas including the abdomen, groin, and pelvis. TMT provides training on tourniquet technology such as the Abdominal Aortic Tourniquet pictured here (image courtesy of Compression Works). With LASTS, Charles River is aiding military surgeons to refresh laparoscopic surgery (LS) skills. LS is a type of minimally invasive surgery performed in the abdomen, with a shorter recovery time than traditional surgeries.
In October 2013, LASTS findings were published the journal Military Medicine in the paper Prevention of Surgical Skill Decay.
TMT and LASTS are two of Charles River's efforts in healthcare support and training. Related efforts include:
The Mobile, Virtual Enhancements for Rehabilitation system, or MOVER, enhances outpatient rehabilitation with engaging video games, a mobile app, sensors, and virtual coaches.
Pictorial Representations of Medical Procedures to Train for Effective Recall, or PROMPTER, improves the retention of battlefield first-aid skills by presenting critical first-aid skills through simple, intuitive symbols.
A mobile application called Remote Exercises for Learning Anger and Excitation Management, or RELAX, helps service members and veterans manage extreme anger, which is often associated with PTSD and traumatic brain injury (TBI).