Charles River Analytics, a developer of intelligent systems solutions, presented new office space to staff during a ribbon-cutting ceremony on April 14, 2015. The additional area on the second floor marks Charles River's sixth expansion since it moved its headquarters to 625 Mt. Auburn Street in Cambridge, MA, in 2001.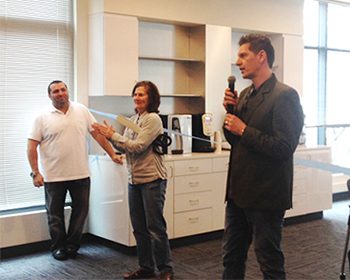 Don Reynolds, Vice President, Finance and Administration, presented the new space to staff. "We are very excited about our most recent expansion," said Mr. Reynolds. "We were able to take advantage of this opportunity to expand our robotics laboratory space and software demonstration space, as well as build a new common area for our staff, which doubles as a collaborative meeting area."
Charles River's Cambridge location is close to Harvard Square and Kendall Square, part of the high-tech hub of the Route 128 innovation corridor, and a short drive to many world-class universities, including Harvard, MIT, Tufts, Boston University, and Northeastern. The location also provides easy access to all of the cultural, academic, and historical attractions Boston and Cambridge have to offer, yet is minutes away from Boston's Logan International Airport and popular suburban commuter communities.