Who knew that at the intersection of introductory computer programming and psychology courses, a first semester chemical engineer would find his way into the computer vision space and help build a camera system that protects whales.
Q: Tell us a little bit about your background.
A: I went to Yale thinking I was going be a chemical engineer. I really enjoyed my chemistry class but not the lab, so after that first semester I decided to explore other fields of study. I enrolled in my first computer programming course, and the following semester I took intro to psychology. I was immediately drawn to both fields and graduated with a joint degree. It was a perfect fit for my interests. I enjoyed the intersection between those two subjects, which is how I fell into the computer vision realm.
My first computer vision course looked at how the human visual system works; it made me reflect on how to recreate that with computers, specifically how to generate features from images in a way that is similar to the human eye and brain. From there I became interested in the myriad other ways that robotics is inspired by nature.
My wife, who was in her first year of grad school at Harvard, was the one who recommended I look at Charles River Analytics. I was instantly interested in the company. My senior year I applied at least a dozen times, to every job they posted. I also applied to another company and the gentleman who ran it, Scott Neil Reilly, is now a Senior Vice President at Charles River. Luckily, he connected me with a friend that worked at a Boston video game company looking for short term help.
When I finally got the fateful call from Charles River, I interviewed for a different position than any I had applied for, but they'd seen enough of my resume to realize my potential. That's how I got my job, only a few months after I graduated.
"I worked at Charles River for five years and then took a different position at another company, but I missed the work, culture, and people enough that I decided to come back. I'm fortunate to work at a company, and in a position, that I really love."
Q: If you could choose a mentor, either living or dead, who would you choose and why?
A: I would want a mentor who could really help light a fire and spur me to act. For that reason, I would pick Teddy Roosevelt, despite the fact that he went to Harvard. He was very much a person of action, someone who was always ready to dive in, gain expertise in a particular field, and then start doing things. He was even known to simply start taking action and then learn along the way. I think this drive is valuable in anyone's life, and particularly for myself, it would be a useful skill to have.
Q: What's a fun fact about yourself that most people might not know?
A: Most people who know me end up finding out that I'm colorblind. It's entertaining for people because they always play the "what color is that?" game. It's interesting because I've met a surprisingly large percentage of people who do computer vision who are also colorblind. I don't know if we are simply drawn to the field or if it is just random, but it's a career where we are constantly talking about vision and colors. It's funny because when we're talking about colors and images, I'll often ask, "what color is that?" only to realize, "oh, you're colorblind, too."
The other thing people inevitably hear me talk about is juggling. I was in the Yale Antigravity Society. Our motto was "Kicking Newton's ass since 1701." We had really goofy titles; I was the Minister of Fire and Brimstone, which meant I was the guy who carried the torches and lighter fluid to all the fire show practices and performances. We did a performance each year which could be best described as a musical but instead of singing there's juggling.
One thing I never learned was how to ride a unicycle, but there was so much time during the pandemic that I learned how to ride my bike without hands. Of course, I then wondered if I could juggle on top of that, and it turns out I can! I'm really proud of myself for learning a new skill after age 40.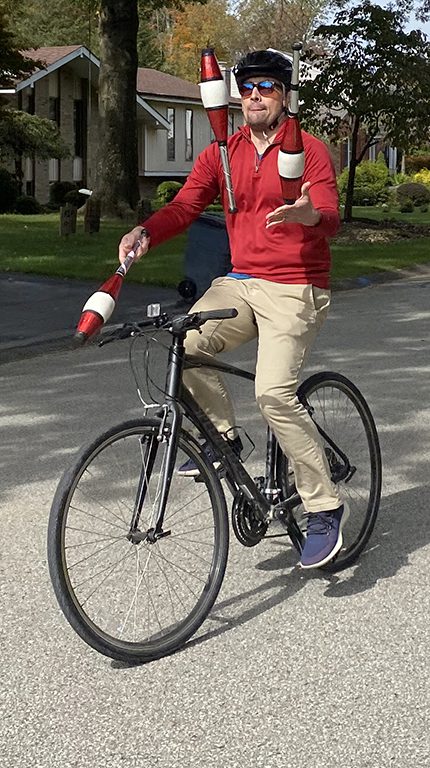 Q: We heard a lot about what drew you to Charles River Analytics, but can you tell us a little bit more about what continues to motivate you and your professional life?
A: I was interested in Charles River because I enjoyed computer vision and for the first five years, I learned a lot by bouncing around to different projects in various domains. There was a lot of skill building. It wasn't until I left and then came back to Charles River that I started to focus on one area: the maritime domain.
What started out as an enjoyment of technology, has evolved into a deep appreciation of how we can use applications to help combat climate change, build energy independence, and conserve and protect ocean wildlife.
Working on Awarion™, our autonomous lookout system, gave my team and I the opportunity to collaborate with marine mammal experts from the New England Aquarium to develop a technology that will help protect North Atlantic Right Whales from vessel strikes during windfarm construction.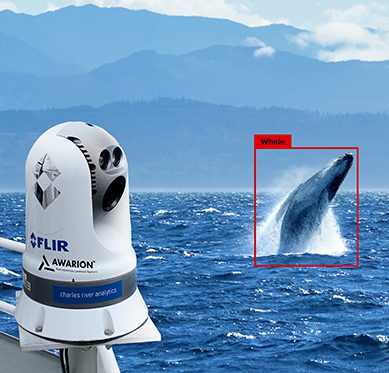 "I started out thinking of whale detection as just another computer vision task, but it's really become a passion for me as I've learned more about the challenges that whales face and their critical role in the ocean ecosystem.
The ability to use technology to make a positive difference in the world is what keeps me motivated."
Q: Tell us more about the marine systems team and how it is integrated into Charles River Analytics.
A: One of the substantial changes from when I first started at Charles River to now is that we have a Marine Systems Facility located in Point Judith, Rhode Island right on the water. It supports some uncrewed underwater vehicle work that we are doing, and we have a really talented cross-discipline team, which includes ocean engineers, mechanical engineers, electrical engineers, systems engineers, marine operations, and an offshore ship's officer with over 10 years of experience at sea.
For me it's great because my experience in the marine domain is limited to one five-day sailing trip with my uncle. Having this whole range of expertise where we frequently meet and talk through our current and upcoming projects helps it all come together. There's a lot of synergy, a lot of complementary capabilities, so we can discuss problems in the marine domain and brainstorm solutions. It's something that's been building for a long time.
"We've been adding people and expertise, and at this point, we have a core group with a collective vision and drive. It's valuable because when I don't know the answer to something, I can get it quickly from a teammate; it enables us to tackle a lot of problems, look at a wide range of opportunities, and present innovative solutions."
Q: What advice would you give someone interested in the field?
A: If somebody is interested in marine systems, I think the best advice I can give is to go out and get experience in those environments. Whether taking on research opportunities on vessels or robotics competitions where you build a robot to swim across a pool, get hands on and understand what's really happening.
The more deeply I've gotten into this domain, the more it's become clear where challenges lie, and that's where there's work to be done.
Test your projects and see what happens, because there is a wealth of feedback that you get from that process that very quickly makes you better.
Certainly, with Awarion, when we put the camera system and processing computer on a boat that went to sea for three weeks looking for whales, we learned so much about how the system works and how we can continue to improve it. It's inspiring to see your work out in the world contributing to the success of important projects.
Interested in Robotics and Autonomy or Marine Systems? Contact Ross at reaton@cra.com or through LinkedIn.