An immersive and engaging
VR training system for lab professionals
Hands-on training in virtual environments
Despite their critical role in the detection, prevention, and control of disease, opportunities for Public Health Laboratory (PHL) personnel to receive personalized hands-on, real-world training is limited by budget constraints. PHLs often make substantial investments so trainees can attend external meetings, seminars, and workshops; but these training opportunities lack both realism and the sense of immersion that lab personnel need to learn and retain skills.
"VIRTUAL-C engages students in a deep and meaningful VR lab experience. With VIRTUAL-C, Public Health Laboratory professionals can learn and retain critical skills—all in a safe, realistic, and cost-effective virtual environment."

– Arthur Wollocko, VIRTUAL-C Principal Investigator and Software Lead
Using VR to Transform How Lab Personnel Train
Virtual reality (VR) offers organizations a cost-effective solution for laboratory biosafety and biosecurity training—multi-million-dollar labs are now one click away with the VIRTUAL-C system. VR Immersive and Realistic Training to Understand and Address Laboratory Competencies (VIRTUAL-C) complements current training methods to make sure trainees receive realistic, hands-on training to develop and reinforce skills.

Assets developed for VIRTUAL-C. From left to right, custom gloves created with Substance Painter, individual gestures, workbench with broken tube spill, and hand washing interaction.
Charles River Analytics designed VIRTUAL-C with Dr. Michael Pentella, Clinical Professor at the University of Iowa, Director of Iowa State Hygienic Laboratory, and APHL Biosafety and Biosecurity Committee member, to create an accurate immersive environment and training focused on the most important biosafety training needs. We used our cognitive systems engineering expertise to design training scenarios that optimize learning and retention of necessary skills. 
"VIRTUAL-C uses the latest VR tech to make lab training more accessible. Its game-like environment keeps trainees engaged, and its realism ensures that lab professionals get the skill transfer required to succeed in their career."
-Jessica Voge, VIRTUAL-C Project Lead
According to Nature Research Journal, "Simulated labs are booming." VR training systems like VIRTUAL-C help organizations expand their reach, cut costs, and enhance student understanding with the latest VR tech. Real labs have natural limitations; for example, more than 50% of PHLs do not offer training on laboratory safety topics such as chemical hazards, spill prevention, control and countermeasures, or the use of biosafety cabinets and other safety controls. By contrast, our VIRTUAL-C environment is free of restrictions—here, trainees can enter into a high-fidelity lab environment in virtual reality and safely receive guided, tailored training. VIRTUAL-C enables naturalistic interactions in this environment, allowing students to train through highly effective VR experiences. 
Built on the VIRTUOSO SDK
VIRTUAL-C uses our VIRTUOSO Software Development Kit (VSDK), which gracefully provides natural human interactions in virtual training simulations. For VIRTUAL-C, we developed a library of reusable virtual assets and scripts, as well as a naturalistic interaction library, to prototype training scenarios. Several of these capabilities were abstracted for broader application and are available within VSDK for open-source use.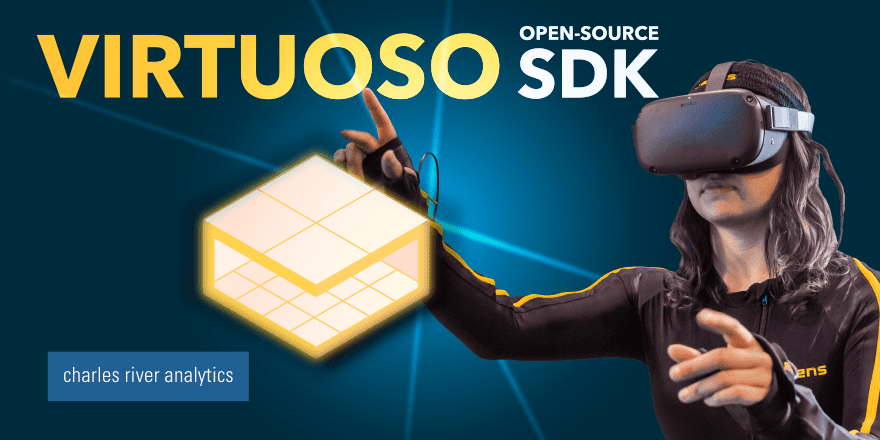 Research reported in this publication was supported by the National Institute of General Medical Sciences of the National Institutes of Health under Award Number R43GM133225. The content is solely the responsibility of the authors and does not necessarily represent the official views of the National Institutes of Health.
Our passion for science and engineering drives us to find impactful, actionable solutions.