A system for sonar training, assessment, tailoring, and remediation
Sonar Training, Motivation, Assessment, Tailoring, and Enhanced Remediation
Anti-submarine warfare (ASW) is a vital strategic concern to the US Navy, since hostile submarines can pose serious threats to naval forces and seaborne lines of communication. The Navy has developed a system for conducting high-fidelity synthetic training to improve the sonar proficiency of ASW-capable surface ships, called the Surface ASW Synthetic Trainer (SAST). The Navy seeks to improve the system, including improving the ability of commanders to assess the sonar readiness of their units, as well as enabling sonar operators and sonar teams to assess their own performance.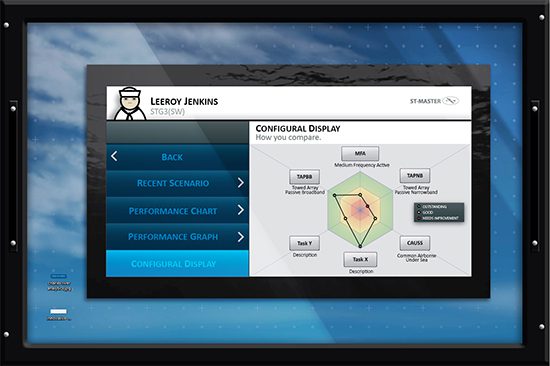 This example of a trainee's user interface in ST-MASTER shows proficiency levels for several task areas in a configural display.
The Charles River Analytics Solution
Charles River Analytics developed a system for Sonar Training, Motivation, Assessment, Tailoring, and Enhanced Remediation, or ST-MASTER, to work with the Navy's SAST. ST-MASTER incorporates motivation models, assesses users' motivation levels, and provides tailored feedback on operators' technical proficiency enhanced by immersive learning simulation features.
ST-MASTER includes a number of innovative features, such as motivation models that harness both intrinsic and extrinsic motivations. The system also takes a novel approach to tailor training and feedback for individuals and teams by using intelligent agents to modify training scenarios and customize rewards to achieve proficiency goals and dynamically maintain motivation. An example of one of the screens in ST-MASTER, which displays the individual's training performance is seen here.
ST-MASTER provides US Navy warships with timely, detailed feedback on sonar proficiency. Its motivational models improve individual and team motivation and learning. Initially, we will transition the ST-MASTER technology to the SAST embedded in the undersea warfare combat system (USWCS). We also anticipate opportunities to transition this technology to training systems used by other Navy communities, other military services, or any government agency that does computer-based training for personnel who perform functions that involve monitoring display screens. This could include training for submarine sonar operators, electronic warfare system operators, air traffic controllers, radar operators, and police/fire/transport dispatchers. We also will target opportunities in the multi-billion dollar computer game industry.
This material is based upon work supported by the Naval Sea Systems Command under Contract No. N00024-14-C-4058. Any opinions, findings and conclusions or recommendations expressed in this material are those of the author(s) and do not necessarily reflect the views of the Naval Sea Systems Command.
Statement A: Approved for Release. Distribution is unlimited.
Our passion for science and engineering drives us to find impactful, actionable solutions.