Cognitive assessment and monitoring platform for integrative research and care
SparkCare is an informatics integration solution that supports scheduling, administration, and clinical workflow integration for several patient-facing data collection technologies. This tool enables longitudinal collection of multiple endpoints during clinical research and practice with minimal administrative overhead.
Clinicians and researchers can use the SparkCare system to easily and securely monitor and assess a patient's symptoms. They can create and customize a variety of assessments for patients to complete remotely on their own computer or conveniently through the NIH Toolbox application. When the assessments are completed by the patient, the results, with accompanying visuals, trends, and resources, are made available for review and evaluation.  
Cognitive assessment ordering and automated administration
Provider/researcher facing portal that facilitates ordering assessments and sending notifications to patients to take those assessments.


Integration within existing workflows
Support for in-clinic or at-home computerized PROMIS® and CTCAE PROs on iPad, iPhone, Android, and computer. Support for NIH Toolbox® cognitive assessments on iPad. Integration with Epic possible. Support for traditionally pen-and-paper assessments such as the Trail Making Test. New assessments planned for integration to leverage other system offerings for scheduling, reporting, and data security.


Longitudinal report generation and results review (e.g., data, trends)
Provides a rapidly readable report depicting patient data and trends, with customizable protocol-based recommendations for follow-up assessment.


Raw data access/download
Providers/researchers can securely access raw data.


Mobile and wearables
Secure, automatic streaming of PRO and health data (Google Fit on Android and Apple HealthKit on iOS), as well as data from wearables (FitBit, Apple Watch, Android Wear).


HITRUST compliance
System designed for HITRUST/HIPAA compliance, audit in progress.
SparkCare integrates with existing workflows, including NIH Toolbox, for seamless assessment administration and results integration. 
The SparkCare platform for assessing cognitive changes focuses on supporting cancer populations. Given the current trend for home healthcare over in-hospital care, SparkCare provides an ideal approach to assess cognitive health remotely without adding undue burden to the workloads of oncologists and primary care providers. SparkCare also helps healthcare teams coordinate their concerns surrounding cognitive health. While the focus of this effort is to detect and manage cancer-related cognitive impairment (CRCI), SparkCare is built on top of an extensible architecture that allows new interfaces to be brought online as needed. Charles River Analytics is already pursuing extensions to the SparkCare portal that enable patients to manage radiation treatment symptoms, adhere to physician recommendations, and follow survivorship care plans after treatment ends. Along with the ability to align with standard healthcare protocols and interface with existing Electronic Health Records, SparkCare aims to enable healthcare providers and researchers to obtain data from patients while outside the clinic, summarize the data in intuitive graphs and charts, and link the results to resources for providing follow-up care. Ultimately, SparkCare will extend the reach of the clinic to at-home assessments and tools to help manage and monitor changes in mental status over time.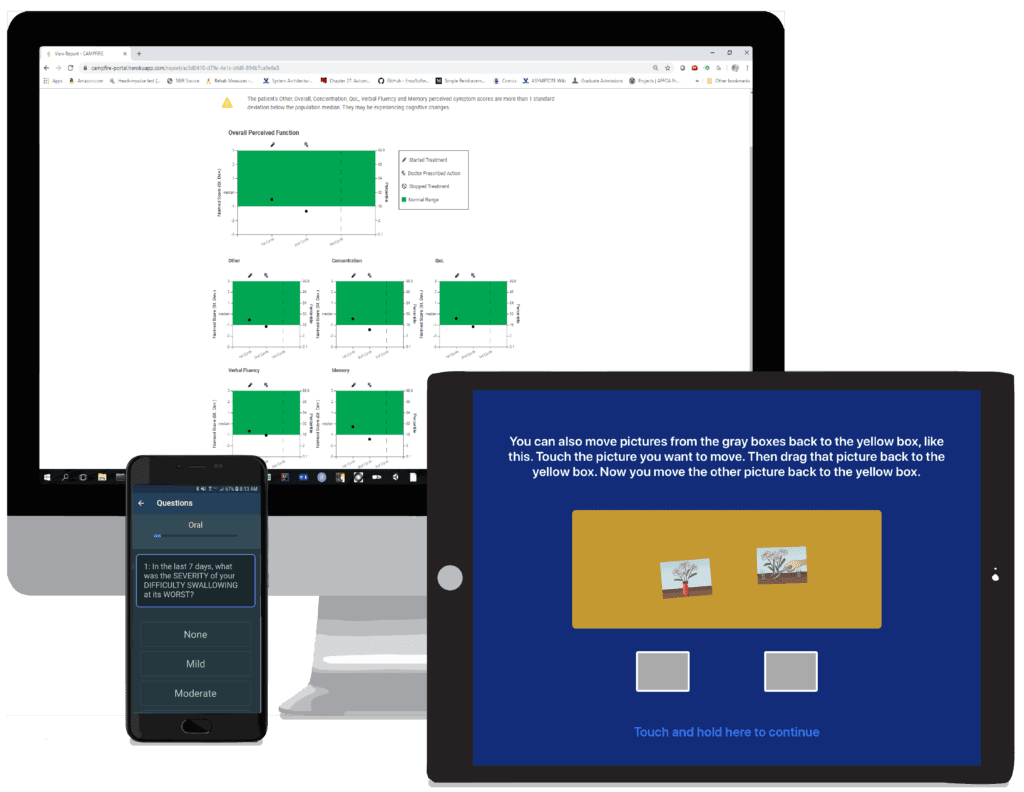 SparkCare provides cross-device support across users and contexts. (Desktop) Provider/researcher facing desktop portal to order assessments and review results. (Mobile) Information exchange with NIH Toolbox for related assessment administration and results upload on tablet. (Tablet) Assessment link enables patients to take assessments on mobile device or any device with a web browser.
Create a new Evaluation Order or edit an existing one (Evaluation Orders are bundles of assessments that are sent to the patient).
Send an Evaluation Order to the patient via email, so the patient can complete the assessment remotely.
SparkCare includes provider/researcher facing tools that support:
Cognitive assessment ordering and administration to patients.
Longitudinal results review (e.g., data, trends), including data export.
Integration within existing workflows (e.g., integration with NIH Toolbox).
Individualized, secure data storage and transmission by leveraging customer IT infrastructure.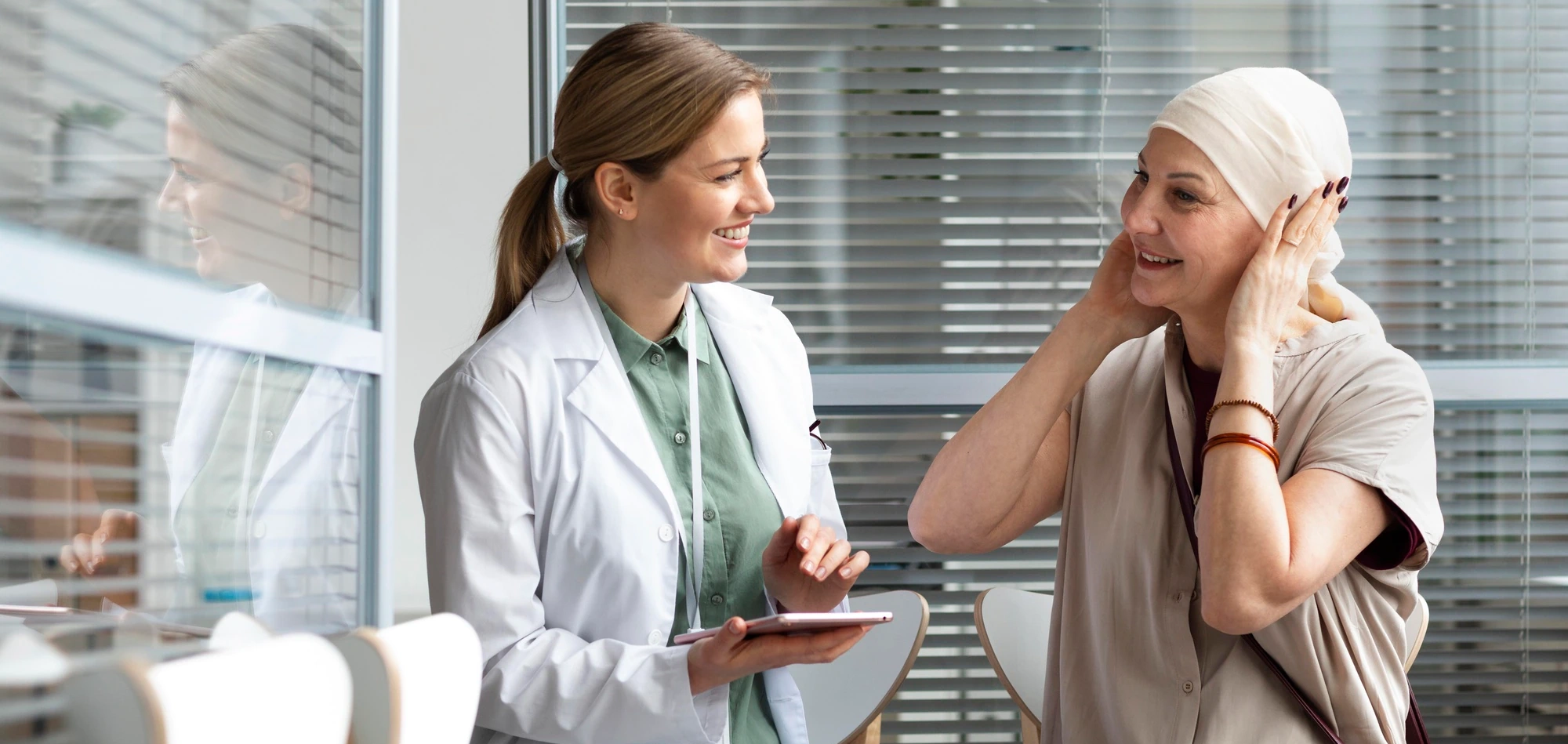 Roughly 17 million individuals in the United States today either live with or have a history of cancer (Miller et al., 2019). Fortunately, rapid advances in cancer treatments have resulted in an increasing number of cancer survivors worldwide. One estimate by the American Cancer Society predicts that there will be upwards of 19 million cancer survivors alive in the US by the year 2024 (American Cancer Society, 2014). While survivability rates are improving, up to 70% of patients receiving chemotherapy are reported to suffer some level of cognitive decline (Ahles, Root, and Ryan, 2012; Ono et al., 2015; Wefel and Schagen, 2012). In many cases, cognitive deficits may be acute; in others, patients experience chronic impairments, including deficits in working memory, verbal memory, and psychomotor functioning that can persist for years (Ahles et al., 2002; Collins et al., 2009; Yamada et al., 2010). Despite the established recognition and overwhelming evidence of CRCI, the precise etiology, long-term impact, and specific neuropsychological deficits remain elusive. This gap in understanding is exacerbated by a lack of tools that are appropriate to effectively monitor for cognitive changes during and after cancer treatment. During treatment, physicians are focused on cancer treatment outcomes, but they also need tools to monitor CRCI that place a minimal burden on workload. While several CRCI assessment approaches exist, none satisfy the level of clinical integration needed to adequately reach cancer populations during research and clinical care.
The principle goal of SparkCare is to streamline the way patients, family members, and providers monitor and manage CRCI throughout the treatment and survivorship phases of the cancer control continuum. SparkCare is a privacy-compliant software system that supports the administration of cognitive assessment measures and facilitates secured provider-patient interactions. SparkCare aims to provide value to patients, healthcare providers, and the broader research community by making it easier for providers and researchers to manage data collection outside the clinic, automatically receive updated results from at-home assessments, and implement guidelines in line with the assessment results.
Ahles, T. A., Root, J. C., & Ryan, E. L. (2012). Cancer- and cancer treatment-associated cognitive change: An update on the state of the science. Journal of Clinical Oncology: Official Journal of the American Society of Clinical Oncology, 30(30), 3675–3686. http://doi.org/10.1200/JCO.2012.43.0116.
Ahles, T. A., Saykin, A. J., Furstenberg, C. T., Cole, B., Mott, L. A., Skalla, K., … Silberfarb, P. M. (2002). Neuropsychologic impact of standard-dose systemic chemotherapy in long-term survivors of breast cancer and lymphoma. Journal of Clinical Oncology, 20(2), 485–493.
American Cancer Society. (2014). Cancer Treatment & Survivorship Facts & Figures: 2014-2015.
American Cancer Society. (2016). Cancer Facts & Figures 2016. https://www.cancer.org/research/cancer-facts-statistics/all-cancer-facts-figures/cancer-facts-figures-2016.html.
Collins, B., Mackenzie, J., Stewart, A., Bielajew, C., & Verma, S. (2009). Cognitive effects of chemotherapy in post-menopausal breast cancer patients 1 year after treatment. Psycho-Oncology, 18(2), 134–143. http://doi.org/10.1002/pon.1379.
Miller, K. D., Nogueira, L., Mariotto, A. B., Rowland, J. H., Yabroff, K. R., Alfano, C. M., … Siegel, R. L. (2019). Cancer treatment and survivorship statistics, 2019. CA: A Cancer Journal for Clinicians, 69(5), 363–385. http://doi.org/10.3322/caac.21565.
Ono, M., Ogilvie, J. M., Wilson, J. S., Green, H. J., Chambers, S. K., Ownsworth, T., & Shum, D. H. K. (2015). A meta-analysis of cognitive impairment and decline associated with adjuvant chemotherapy in women with breast cancer. Frontiers in Oncology, 5, 59. http://doi.org/10.3389/fonc.2015.00059.
Wefel, J. S., & Schagen, S. B. (2012). Chemotherapy-Related Cognitive Dysfunction. Current Neurology and Neuroscience Reports, 12(3), 267–275. http://doi.org/10.1007/s11910-012-0264-9.
Yamada, T. H., Denburg, N. L., Beglinger, L. J., & Schultz, S. K. (2010). Neuropsychological outcomes of older breast cancer survivors: Cognitive features ten or more years after chemotherapy. The Journal of Neuropsychiatry and Clinical Neurosciences, 22(1), 48–54. http://doi.org/10.1176/jnp.2010.22.1.48.
Developed under NIH-NCI Award HHSN261201800047C/75N91018C00047. The contents of this page are those of the author(s) and do not necessarily represent the official views of, nor an endorsement by, HHS, NIH, NCI, or the U.S. Government.
Our passion for science and engineering drives us to find impactful, actionable solutions.