Scientists and software engineers from Charles River Analytics were honored with a Best Paper award at the Cross-Cultural Decision Making (CCDM) Conference. CCDM is held in affiliation with the 7th International Conference on Applied Human Factors and Ergonomics (2016 AHFE International), which is taking place from July 27-31, 2016, at Walt Disney World's Swan and Dolphin Hotel in Orlando, FL. The paper, Modeling Causality in Sociocultural Systems using Ensemble Methods, was written by Dr. Amy Sliva, Dr. Scott Neil Reilly, David Blumstein, Steve Hookway, and John Chamberlain of Charles River Analytics.
"We are really excited to receive this award," said Dr. Sliva. "We believe combining sound social/political science with state-of-the-art machine learning techniques has a lot of promise for creating tools that help us better understand the social world and to make better decisions."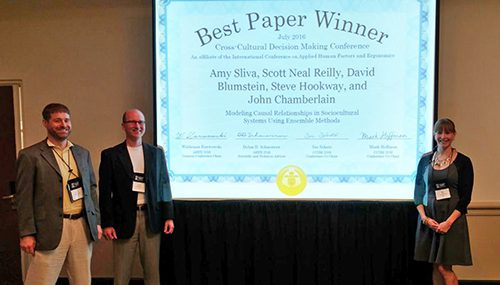 Charles River staff accepting the award for Best Paper
Charles River is committed to expanding and improving the field of human factors and has participated at this conference for many years. See our other presentations at AHFE 2016.