Charles River Analytics Inc., developer of intelligent systems solutions, has expanded our research and product development for adaptive training and maintenance—we create intelligent, adaptive training systems, simulation-based training systems, and skill modeling technologies that improve the quality and efficiency of training.
Our skill modeling techniques help students gain the most out of training sessions—these affordable techniques enhance procedural training, decision-making, and teamwork by including clearly defined steps, objective metrics, and dependencies.
"The most expensive element of any training investment is time for instructors, students, and equipment," said Dr. Krysta Chauncey, Scientist at Charles River Analytics. "Students can use our adaptive and cost-effective intelligent training solutions on their own time, so they can focus on what they need most from instructors and equipment when they are available. Since independent time has many pressures, gamification elements help students stay engaged and motivated so they acquire the necessary skills and knowledge."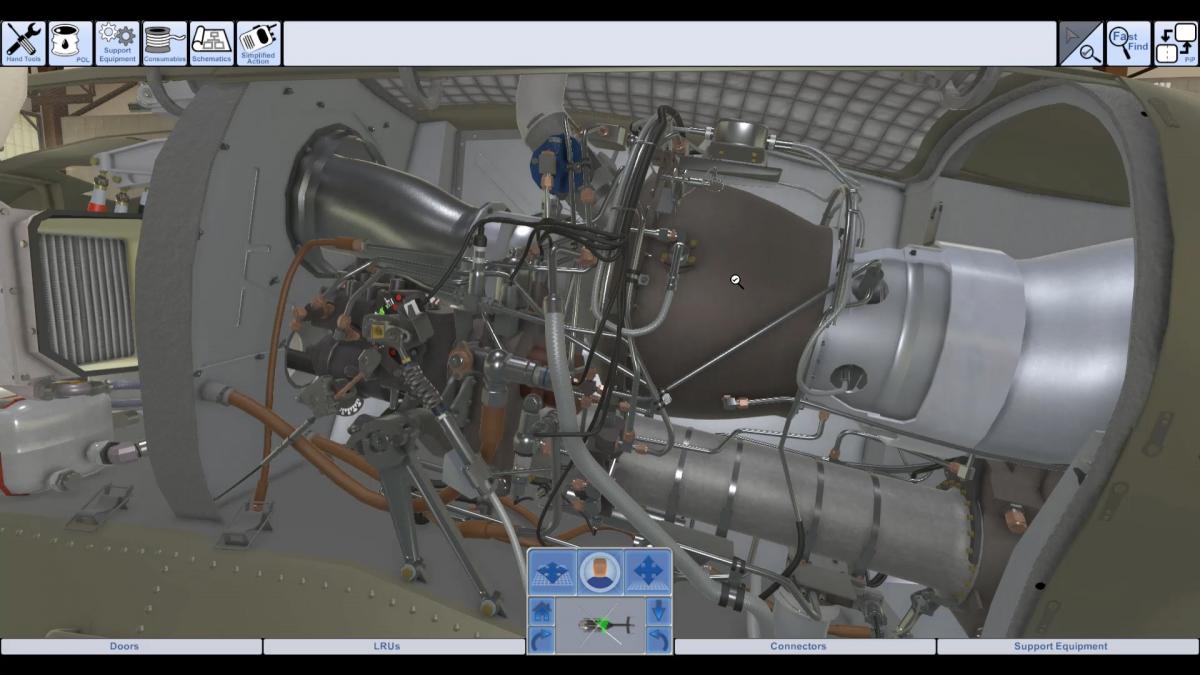 Our rich AI technologies enhance simulation-based training systems
We leverage rich AI technology to build intelligent tutors in a variety of domains, including avionics maintenance training, communication system troubleshooting, marksmanship, and battlefield medicine. Our adaptive intelligent response components incorporate dynamic behaviors into the training, tailoring it to the student's needs on the fly.
Our recent adaptive training efforts include:
EAGLE, our just-in-time intelligent virtual trainer. EAGLE helps US Air Force satellite communications students learn and remember complex procedures for the Hawkeye III Lite satellite communications system. EAGLE incorporates our virtual maintenance trainer, MAGPIE.
MAGPIE Framework, our game-based training environment. MAGPIE combines an integrated suite of efficient content authoring tools, models of trainee skill and motivation, and a game adaptation engine to dynamically deliver game-based maintenance training that responds to individual learning needs, performance, and instructor guidance.
WEAVER, our tablet-based intelligent virtual trainer. WEAVER helps trainees in high-risk career fields amass more training time and hands-on practice with tasks that risk damage or injury.
SNAPPR, our system that creates probabilistic models of Naval system components, the environment in which they operate, and the missions that they serve. SNAPPR helps operators understand the operational availability of hardware components onboard a vessel.
DATEM, our real-time alerting system. DATEM provides tripwires to detect, classify, and localize system faults, and recommends appropriate responses to improve mission success.
DATEM monitors system health and status to keep complex digital antennas functioning properly
BADGERS, our decision-support system. BADGERS enables shipboard maintainers to rapidly analyze system status and predicted malfunctions, evaluate high-level mission impacts, and efficiently make maintenance decisions based on intuitive and innovative data visualizations.
STRUDEL, our tool that models how simulation fidelity, trainee experience, and task interact to produce different learning outcomes. STRUDEL helps operators understand how the model applies to Navy training simulations and fidelity choices for future training solutions.
---
Join Us at Booth 1239 at I/ITSEC 2019!

Learn more about our capabilities at the Interservice/Industry Training, Simulation and Education Conference (I/ITSEC 2019)—the world's largest modeling, simulation, and training event—from Dec. 2-6 in Orlando, FL.
At Charles River Analytics, our deep understanding of intelligent adaptive training and AR/VR solutions results from cutting-edge AI, robotics, and human-machine interface R&D. We create custom solutions for your organization's toughest challenges and we turn research into results.
Stop by Booth 1239 to demo our adaptive intelligent training and AR/VR solutions or contact us to set up a meeting.