Charles River Analytics Inc., developer of intelligent systems solutions, recently led a class session at the US Army's Command and General Staff College. Senior engineer Arthur Wollocko, and scientists Elizabeth Thiry and Caroline Kingsley introduced students in the Futures Command Mission Command Battle Lab to our rich suite of AI, VR, and AR technologies. We also presented work on our Mission Command Augmented Reality Technologies to enhance Human User Readiness (MCARTHUR) approach. MCARTHUR applies AR to Mission Command, an integral part of all Army missions.
"During our lecture, we presented the AI, VR, and AR technologies we've developed," said Elizabeth Thiry, Scientist at Charles River Analytics. "Then, our demonstration let students experience MCARTHUR's augmented reality firsthand—these future Army leaders met the future of Mission Command training."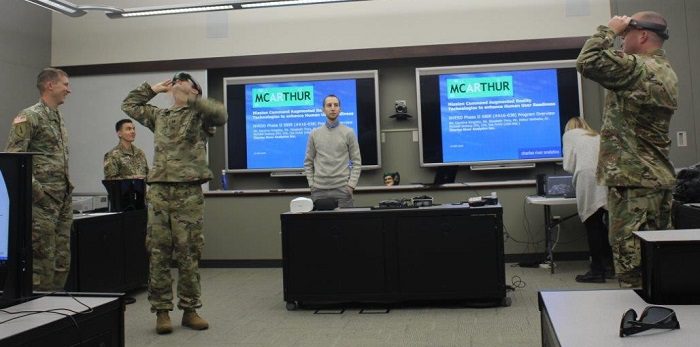 Senior Software Engineer Arthur Wollocko shows Mission Command students how to use MCARTHUR AR
"The students also shared valuable feedback on MCARTHUR," added Caroline Kingsley, Scientist at Charles River Analytics. "We were thrilled to discuss how we can fuse AR tech with their current training techniques. Now we understand in-depth who our users are, what features they want to see, and how and where to best apply specific AR capabilities based on context."
Contact us for more information on MCARTHUR and our other Mixed Reality/Virtual Reality/Augmented Reality capabilities.
---
This material is based upon work supported by CERDEC under Contract No. W56KGU-18-C-0002.
Any opinions, findings and conclusions or recommendations expressed in this material are those of the author(s) and do not necessarily reflect the views of CERDEC.