Ben Bauchwitz is a researcher, scientist, graduate student, competitive swimmer, and dog Dad. But he's never had a cup of coffee.
When he's not perfecting the art of microwaving a hot dog ("the secret is the mix of heating styles that I use by varying the duration and power levels," says Ben), he's studying and developing intelligent technology to enhance human performance. Ben's interests lie at the intersection of AI, human factors, and cognitive science, and he recently became interested in adaptive training and autonomy, particularly as applied to robotics and medicine.
Charles River Analytics was ideal for Ben's interests, and he began his career here even before he completed his undergraduate degree, as a software engineering intern between his junior and senior years.
In 2015 Ben received his bachelor's degree in Brain and Cognitive Science from MIT, where he served as a research assistant in the McGovern Institute for Brain Research. His degree program was flexible, enabling him to take coursework in artificial intelligence and computational psychology, and he discovered an interest in the development of technology that enhances human performance.
In fact, Charles River was such a perfect fit that Ben joined the company as a scientist immediately after graduation. He is particularly proud of a virtual training system he developed, EFECTIVE, which provides practice for mass casualty responders. It is the first comprehensive system to train military medical personnel on medical care and logistics in environments where there are active threats or inadequate resources to support standard medical doctrine.
"It's been extremely exciting to see a technology that I conceived make it to the brink of being deployed to military and civilian health care systems. No one has ever built something like EFECTIVE, and it's extremely rewarding to know that lives may be saved because of the novel training we're able to deliver."
For Ben, the opportunity to serve as the Principal Investigator and develop the project from the ground up with a high level of visual realism was especially rewarding. The experience made him crave opportunities to develop new R&D projects aligned with his interests, so he decided to pursue his Ph.D.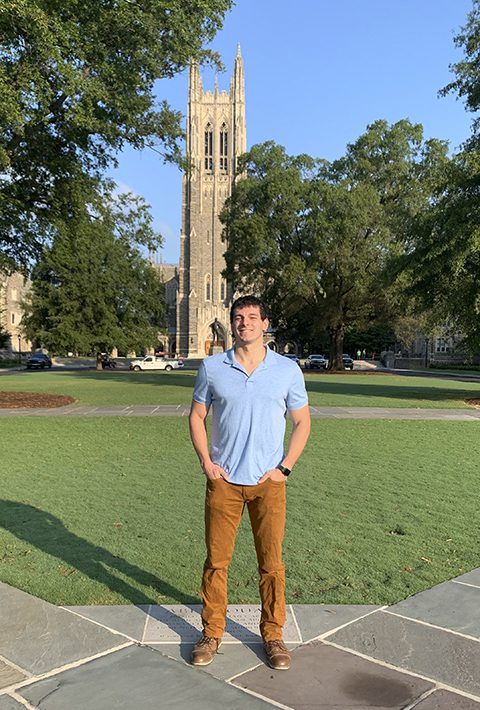 He is currently a doctoral student in Duke University's Humans and Autonomy Lab (expected graduation 2024), where he studies processes for annotating complex datasets, such as those for image segmentation tasks.
His research aims to model how different human and automated annotation processes contribute to different types of errors and how these errors in turn affect the training process for machine learning systems. He is especially interested in applications involving shared authority between humans and autonomy, such as driving, medicine, and cybersecurity. 
But Ben is not just any student, he was the 2020 Collaborative Sciences Center for Road Safety (CSCRS) Outstanding Student of the Year. Professor Missy Cummings, Ben's graduate advisor, is a former Navy pilot and long-time collaborator with Charles River, and she nominated him for his model for testing cars with automated driving technologies. Ben developed a testing protocol that evaluated Tesla Model 3 driver monitoring systems using both a highway and a closed track. The data from this experiment demonstrated that machine learning control systems can exhibit significant variability in response to subtle environmental changes, creating the possibility of scenarios which are unexpectedly dangerous.
In addition, during his third year, Ben worked in Duke's Office of Translation and Commercialization, which provided him the opportunity to learn how market forces interact with technical objectives to influence product engineering. For example, he explains, "seemingly minor technical decisions can heavily influence how a technology is deployed and thus how it is perceived by customers, which can ultimately dictate the final pricing and licensing strategies."
Ben is excited about the opportunity to apply what he has learned about product development to projects at Charles River. He hopes to integrate several of Charles River's medical training applications to create a multifaceted training platform for a variety of clinical and non-clinical roles related to disaster medicine. As part of Charles River's KWYN™ product, these training systems will emphasize the application of AI to track trainee skill level and respond with individualized content.
The ultimate goal is to deliver the next generation of virtual training products that move away from a one-size-fits-all approach to deliver faster, cheaper, and more effective training.
Attending graduate school while working as a scientist at Charles River requires discipline and dedication. Ben also possesses another unique characteristic that is critical for his success: the ability to find free food around the office. "I consider it my most noteworthy talent," he jokes. "If you come to tell me about free food, chances are I have long since finished eating it." Ben's passion for all things food (ask him about the best dining spots in town!) was likely developed during high school in Hershey, PA where the air did in fact smell like chocolate, says Ben.
Ben's list of publications shows his excellence in research and theory, but he also enjoys tinkering, even when he says, "it's completely ridiculous."
For example, when Ben bought a television that turned out to have a cracked LCD panel, replacing the panel wasn't the practical solution—but it was an interesting challenge!
"The most delicate step was getting the new LCD in place," said Ben. Combining his appreciation for the absurd with a swimmer's patience for repetitions, he spent an hour using the old, broken panel to practice the precise movements that would be required for inserting the new panel.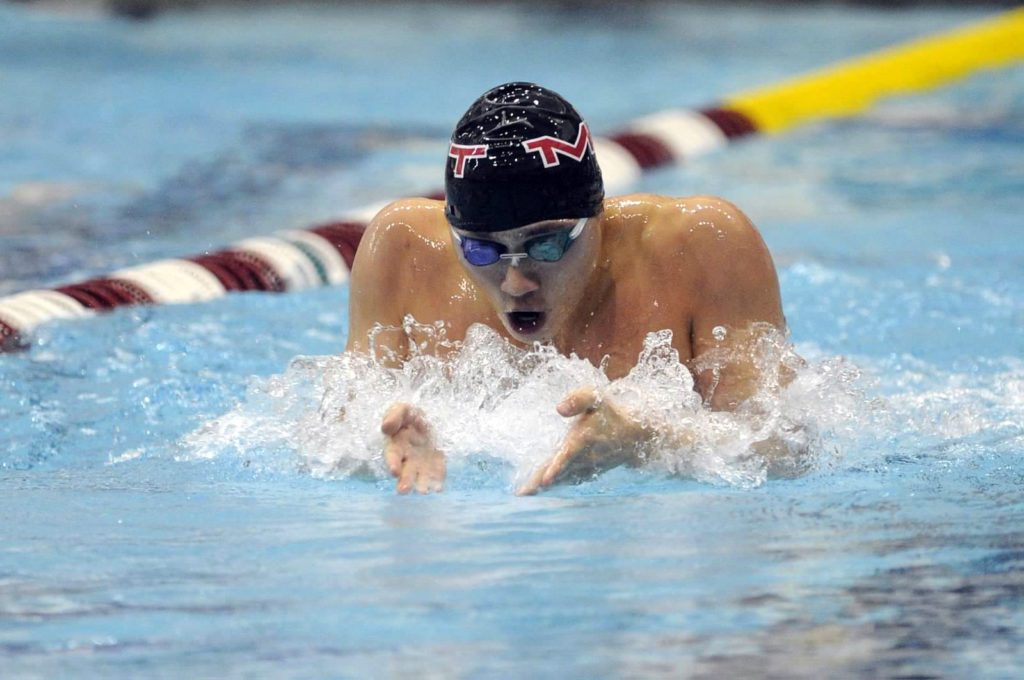 When Ben isn't fixing electronics or investigating new, impactful solutions to enhance human performance and safety, he's training for local and national swim meets. Ben has been a competitive swimmer since the age of 12, and regularly swims at the Triangle Aquatic Club in Raleigh, NC. In fact, Ben competed in the U.S. Open in 2019 and 2020 and recently won a national championship in masters-level competition.
He also enjoys spending time outdoors with his pup, Lola. Describing a hiking trip to the mountains a few hours west of Duke, Ben laughs when asked if they visited nearby Lake James. "No," he replies. "Lola doesn't like to swim." The irony.