Multiple efforts sponsored by the Small Business Innovation Research (SBIR) program recently resulted in the spinout of Veero™, which is applying advanced AI, AR, and computer-vision engineering to deliver exceptional customer fitting experiences.
Work on the technology behind Veero began when the US Army asked for a smartphone app that could quickly and accurately fit gas masks to soldiers' faces. Meanwhile, another Charles River team was developing related technology to help autonomous robots safely evacuate wounded soldiers from the battlefield.
In both cases, the military needed technology to capture highly accurate measurements of the human body in a passive manner in the field; lives would depend on it. With the outside-the-box thinking that has fueled the company's growth, it became apparent that an anthropometric measurement innovation that could deliver these precise body measurements within a military context could be valuable in many online consumer applications—specifically, it could be a game-changer for consumers trying to buy glasses online. The technology developed by the scientist and engineer Stan German and Michael Kim was exciting enough that the employee-owned company greenlit plans to develop it into a commercial product under a new subsidiary.
The first product from the spinout, Veero™ EyeSize, "instantly recognizes hundreds of points on a customer's face, generating accurate measurements, including pupillary distance, a feature missing from your optometry prescription but absolutely necessary to find proper-fitting glasses," explained Veero's CEngO Kim.
The application integrates with retailers' online platforms, calculating precise distances between facial features to optimize frame recommendations for the best fit and comfort. The high level of accuracy and cross-platform ease-of-use are significant advances in online eyewear shopping, which has struggled with customer fit and merchandise returns.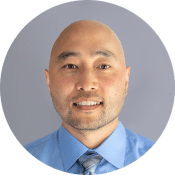 According to Veero cofounder and CTO German, Veero EyeSize resulted from his personal frustration with the online eyewear shopping experience.  
"I've been through it all buying glasses online," he said. "Choosing frames should be fun, but I've gotten headaches from the wrong PD measurement, frames that are too big, frames that pinch; I've ordered four pairs and returned them all. As a research scientist working on computer perception, I knew we had technology to solve these issues for retailers and their customers." 
Sam Mahoney, CEO of Veero, said, "We're excited for Veero to be the next example of innovative tech born from defense investment that transitions to change the world we all live in… in this case by enriching the consumer experience in the e-retail market."
Veero emerged from the integration of technology developed across multiple US Government programs—totaling a 4-year, $4M investment from the US Army and other agencies. Karen Harper, President of Charles River, said, "Veero is using just one of the breakthroughs that can occur when you've got best-in-class scientists and engineers focused on solving 'impossible' problems for the Government. Veero wouldn't exist without the SBIR program and the US Government sponsors who provided support, connections, and encouragement to bring this innovation to the consumer market."
To learn more about Veero, visit veero.ai.
Contact us to learn more about our core R&D capabilities.