Charles River Analytics Inc., developer of intelligent systems solutions, showcased our adaptive intelligent training and AR/VR solutions at I/ITSEC 2019, the world's largest modeling, simulation, and training event.
Held in Orlando, Florida, from December 2-6, I/ITSEC 2019 boasted ~17,400 registrants from 56 countries. As one of 550 exhibiting companies, we demonstrated the latest in applied AI research and development.
Adaptive Intelligent Training Tools that Drive Results
Charles River Analytics worked with the Air Force Research Laboratory to develop effective games to revolutionize aircraft maintenance training. AFRL is using MAGPIE, our immersive, augmented-reality learning environment, to turn novice F-15E aircraft avionics technicians into experts. The US Air Force praised our training system as a "virtual solution that could revolutionize aircraft maintenance training."
MAGPIE is a powerful software base that can be adapted for diverse applications. For example, on the EAGLE project, we worked with the DiSTI Corporation to create a just-in-time training tool for US Air Force satellite communications students and deployed personnel. This training is available whenever and wherever a student needs it, providing immersive rehearsal of unfamiliar and complex procedures at a low cost.
View a brochure of our Adaptive, Intelligent Training Systems.
VIRTUOSO Demo
We worked with the Army Research Laboratory to support natural human interactions in virtual, augmented, and mixed reality environments. Natural interactions are especially important when students need learned muscle memory for physical tasks, such as in combat casualty training.
VIRTUOSO automatically assesses skill proficiency so students can work independently and delivers feedback from expert trainers remotely observing a session.
Because VIRTUOSO gracefully incorporates so many leading commercial control and display peripherals, it spotlights which equipment is best suited to a training task—and can support the equipment available when an individual is ready to train. Simulations that incorporate VIRTUOSO are resilient to future technology advances.
Our free and open-source VIRTUOSO Software Development Kit (VSDK) seamlessly provides natural human interactions into the virtual training experience.
With VSDK's robust and intuitive tools, developers can consistently design more immersive, resilient, and naturally interactable AR and VR experiences, yielding higher user engagement and more effective training outcomes. With VSDK, you can deliver a more realistic training product.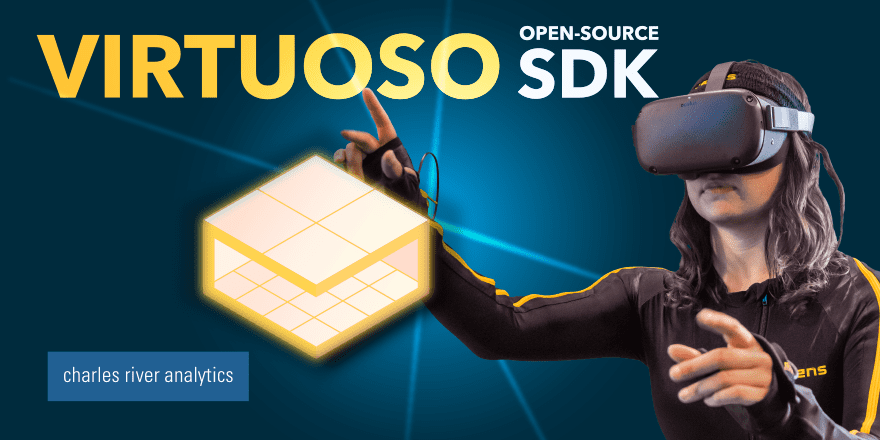 View a brochure on our Human Interfaces to Training Technology. 
Our Human Performance Tools in Action
Recently, Charles River Analytics worked with NASA to assess astronaut workload and performance during the testing and evaluation of new NASA systems. We used the measurements from our CAPT PICARD system to determine how best to display health and status on the Orien space vehicle.
CAPT PICARD is built on Sherlock™, our open and extensible software and hardware platform that provides a unified, end-to-end solution. With Sherlock, you can rapidly prototype applications to collect, analyze, visualize, and reason about human physiological, neurological, and behavioral data.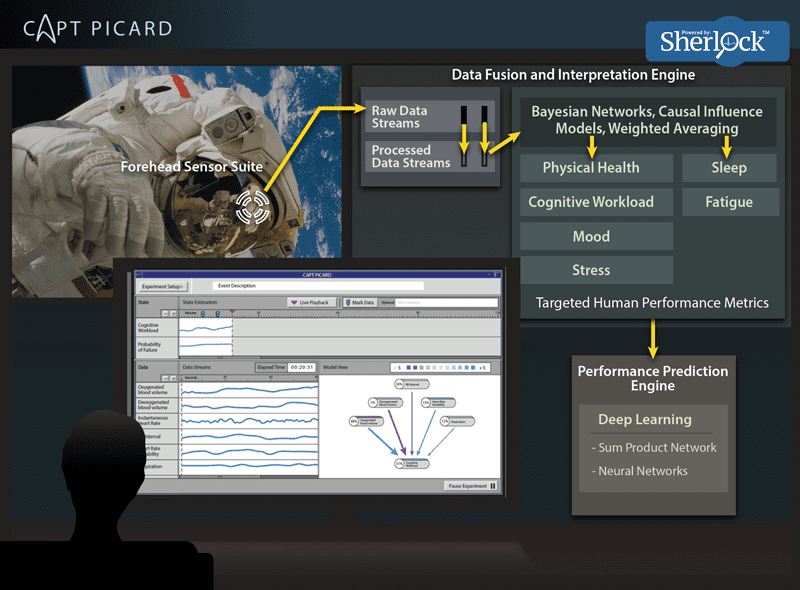 CAPT PICARD can inform astronauts and Mission Control when cognitive performance begins to deteriorate, averting performance-related crises during a space mission
View a brochure on Enhancing Human Performance and Job Readiness
Contact us to learn more about the tools and capabilities we featured at I/ITSEC 2019!