Charles River Analytics Inc., developer of intelligent systems solutions, has announced a two-year, $2 million Phase III contract to enhance the capabilities of its game-based maintenance training environment for the US Air Force. The Air Force Research Laboratory's (AFRL) Small Business Office recently praised Charles River's Maintenance Training based on an Adaptive Game-Based Environment using a Pedagogic Interpretation Engine (MAGPIE) as a "virtual solution that could revolutionize aircraft maintenance training."
Game-based training with MAGPIE
Traditionally, US Air Force maintainers receive classroom and live exercise training. These approaches are limited—they do not currently demonstrate a comprehensive range of realistic maintenance situations or provide compelling, individualized learning.
Game-based training provides an immersive learning environment that combines the virtual and physical worlds to turn a novice into an expert. However, updating this kind of training can be costly unless easy-to-use development and adaptation tools are provided.
MAGPIE is our standalone, virtual tool that trains students on F-15E aircraft avionics maintenance. Its training suite includes efficient content authoring tools, models of trainee skill and motivation, as well as a game adaptation engine. Game adaptation is driven by the trainee's performance, instructional design theory, and motivational theory to ensure that the student receives agile training. MAGPIE dynamically delivers game-based maintenance training that is responsive to individual learning needs, performance, and instructor guidance.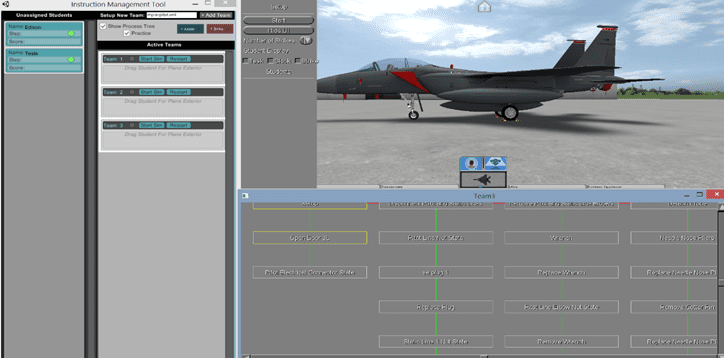 An instructor's view of MAGPIE's Phase II training suite
With MAGPIE, the Air Force can successfully harness the true power of game-based training for maintenance teams. Its adaptive, game-based environment provides a more agile experience than classroom training alone.
Second Lt. Mitchell Lichtenwald, program lead in AFRL's Airman Systems Directorate, believes that the Military is responsible to provide Warfighters with realistic, tailored training while mitigating risk. With the emerging technology of the virtual world, this is becoming a reality.
"Currently, you have to go to the flight line to actually teach [mission-critical maintenance techniques]," Lichtenwald said. "The new MAGPIE effort is really about helping the Warfighter to train better."
The tool can also lower training costs for the Air Force with its intuitive authoring that allows course designers to construct new training content with limited software engineering support.
Charles River has developed numerous game-based training prototypes and products to provide accessible and affordable training of key concepts and skills, using automatic tracking and feedback to emphasize knowledge gains and durable procedural skills. Our serious games specialize in introductory learning and refreshing cognitive skills, such as decision-making.
For more information about MAGPIE or other game-based training capabilities, visit www.cra.com or contact us.
---
This material is based upon work supported by the Air Force Research Laboratory (AFRL) under Contract No. FA8650-17-C-681. Any opinions, findings and conclusions or recommendations expressed in this material are those of the authors and do not necessarily reflect the views of the United States Air Force.