The Situation
Missions are never static. Commanders must respond to unanticipated battlefield changes. Mission success depends on continual operations assessments to ensure the current plan is still effective, and, if not, to trigger a readjustment of the plan. Military operations, however, are becoming increasingly complex and challenging in large part because of the application of technology. High technology sensors and weapons now span from space to undersea, with scales ranging from geographic to microscopic. Planning and executing successful integrated operations in such a vast and dynamic battlespace is ultimately limited by the ability to assess the outcomes of actions already taken. Without appropriate feedback, Commanders do not know if current strategies and tactics are effectively serving the overall mission, or even whether the mission has been achieved.
The Charles River Analytics Solution
A team of logicians, ontologists, linguists, and computer scientists at Charles River Analytics is developing information technology that will revolutionize dealing with technology-driven warfare complexity. The team is working to develop a smart information grid (analogous to a smart energy grid) that links the best sources from a wide variety of information producers, such as sensors and intelligence analysts, with information consumers, such as Commanders. The smart information grid tracks when information is used for decision making, how important it was to the decision, as well as the observable effect of the decision. The built-in feedback mechanism is critical to the adaptive "smarts" of the information grid.
A critical feature of the smart information grid is accessing sources of information that otherwise would be off the grid for a conventional information system. This requires gaining access to not only well-structured information (as exists in databases), but also the free-text information in communications between humans expressed in natural language, such as planning documents and analyst reports. We are developing a novel ontology-grounded information extraction technology that interprets natural language the same way it extracts information from other information artifacts, such as databases and sensor signals, into a common core of spatio-temporal semantics. When completed, this common foundation will enable SIGOPS to evaluate, integrate, and route information of all types and origins to consumers based on their needs.
This figure visualizes the smart information grid concept, linking producers and consumers of information through a common semantic core. The semantic interpretation process ingests information from the specialized physical representations of producers, and generates the physical representations of information desired by consumers.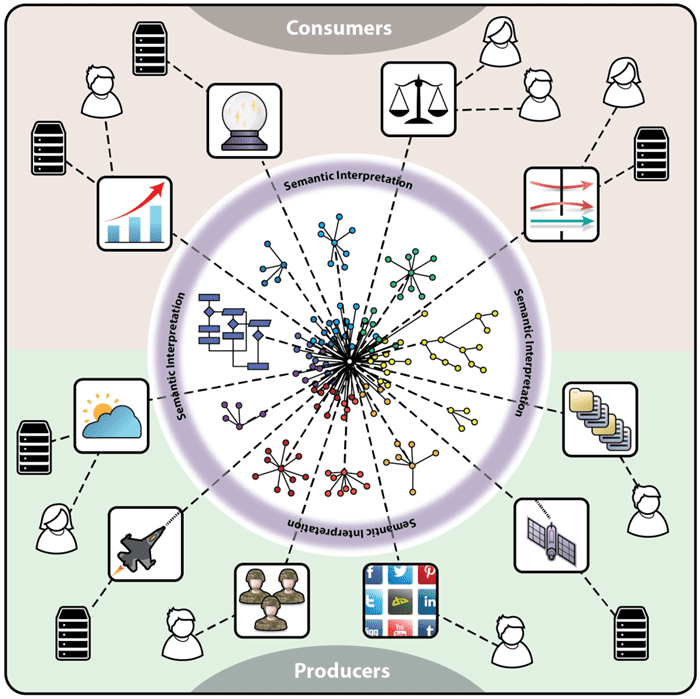 The smart information grid
The Benefit
SIGOPS helps get right information to the right people at the right time to provide feedback on the success and effects of actions already taken. Assessing operations through the uncertainty and ambiguity of the fog of war—particularly when an adversary is vigorously attempting to make the job as difficult as possible—has long resulted in wasted and ineffective efforts to achieve the stated mission. SIGOPS provides a new approach to minimizing effort and loss while better assuring mission success. Through more informative and timely assessment information, Commanders will be able to adjust plans, reallocate resources, and ultimately avoid risks and losses while achieving their goals.