The Situation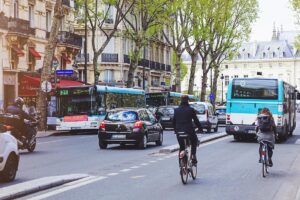 Connected vehicle and infrastructure technology can revolutionize safety and efficiency of roadway transportation. For this reason, it is seeing increased adoption and technology advancement in the automotive industry.
"For this technology to truly realize its potential, it must provide connectivity for all shared roadway transportation options," explained Dr. Michael Jenkins, Senior Scientist at Charles River. "Bicyclists represent a class of vulnerable roadway users that, to date, have been largely overlooked. By bringing them onto these connected networks, we'll be able to provide benefits directly to the cyclists."
The Charles River Analytics Solution
Under a contract issued by US Department of Transportation's Small Business Innovation Research (SBIR) Program, with funds from Federal Highway Administration, Charles River Analytics developed a system, called MAIN-ST. MAIN-ST is specifically designed to improve bicycle safety by bringing cyclists onto the connected vehicle and infrastructure networks.
"Using a combination of commercially available hardware and custom software algorithms and processing methods, we can provide cyclists with multiple tiers of safety. This includes passive safety where the cyclists' location and behaviors are transmitted to other connected vehicles and infrastructure, without the cyclist even knowing the technology is there; to active safety measures whereby additional hardware can be installed on the bicycle to inform cyclists to potential dangers via visual, audio, or haptic alerts, so they can make safer riding decisions," said Dr. Jenkins.
Charles River's MAIN-ST system also supports communications between cycles and infrastructure. For example, a stoplight can notify a cycle that the light is about to turn red; the cycle can notify the light of its approach so the light remains green longer to support a faster, safer ride. This communication can also solve the issue of road sensors not being triggered by cycling traffic. Waiting endlessly for a light to change increases the likelihood that a cyclist will run the red light. With MAIN-ST, the cycle notifies the light it is present and waiting, so the light can change more quickly to green.
The Benefit
MAIN-ST aims to bring bicycles onto the connected vehicle and infrastructure network, allowing cyclists to use a software application to make safer cycling decisions, and introduce an added layer of passive safety when in the vicinity of other connected vehicles or infrastructure. Better communication can lead to fewer collisions and improved transportation efficiency.
In December 2017, Charles River partnered with the City of Las Vegas to demonstrate connectivity between bicycles and the connected infrastructure while riding bicycles in the City of Las Vegas' Fremont East Entertainment District. Our team successfully tested the MAIN-ST technology in a live, connected, urban environment demonstrating the feasibility of the approach, and collecting over 7GB of data logs that we will use to refine our algorithms and capabilities to further promote safe cycling.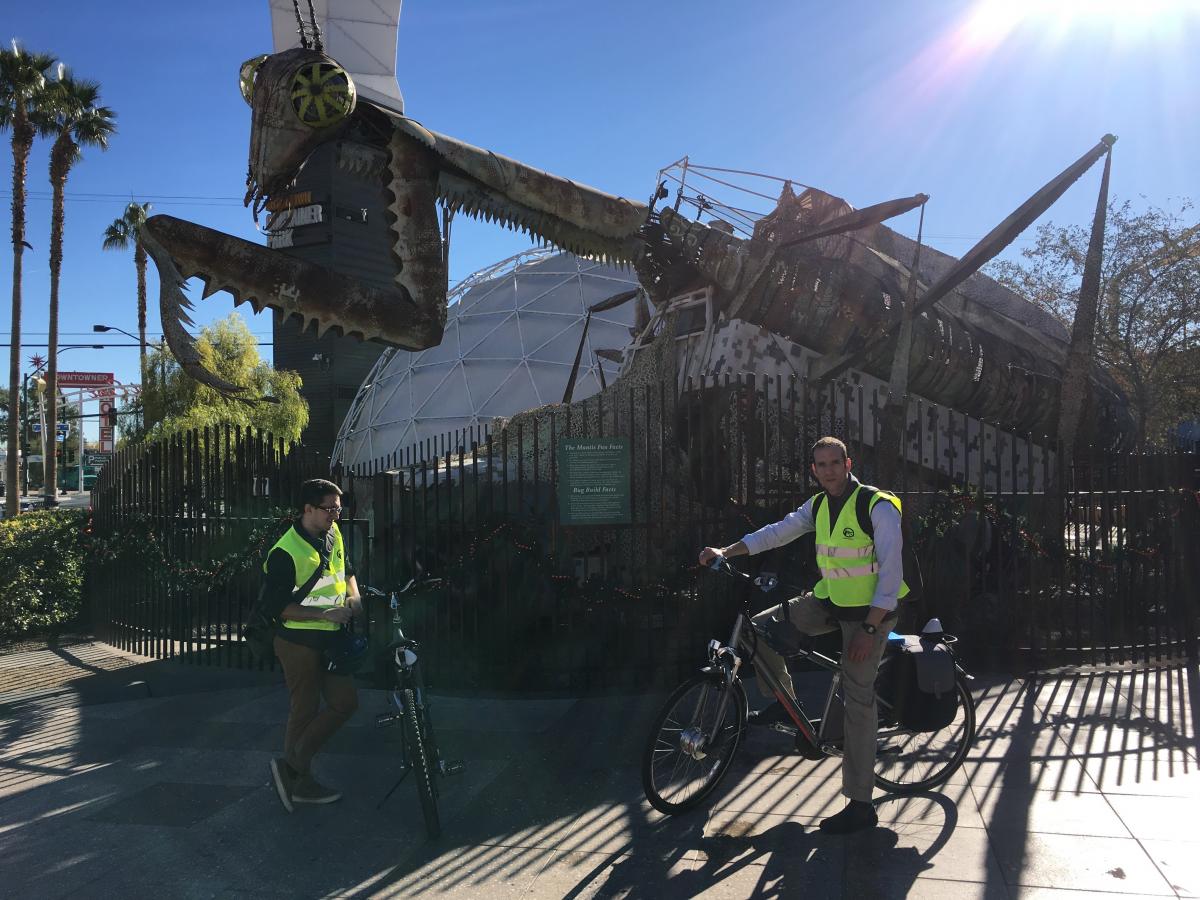 The Charles River engineering team prepares to test connectivity in Las Vegas
Dr. Jenkins said, "Being able to test and fine tune our software in this type of real-world environment will provide us with invaluable data and feedback that will enhance our system's performance and resiliency for eventual consumer adoption."
KCLV-TV (Las Vegas) posted a video of the MAIN-ST testing.